Start


Ipk [04.04.2014]
Juliano Mer-Khamis (29. Mai 1958, Nazareth - 4. April 2011, Jenin)
Ergänzende Links:
Wir haben einen Freund verloren (ipk, 2011)




Gesellschaft [18.03.2014]
SFP launches 'Tear Down Apartheid'-Campaign
Because the Israeli occupation ignores international and humanitarian law, we are demanding a halt to all racist practices against the unarmed Palestinian people and for the refugees to return to their land. We demand an end to the displacement, murder, arrest, ethnic cleansing, torture and inhumane and immoral treatment . We in the Solidarity movement for Free Palestine (SFP) are today launching a campaign against racism and for the removal of the occupation on our land. We will no longer wait.
We ask all activists who love justice and freedom around the world to join us: in the name of humanity and justice. In order to free Palestine and help us in our struggle we ask you if you could kindly make a donation to help us in our activities to remove racism and occupation from our land.
Quellen:
Solidarity Movement for free Palestine (sfp)




Meinung [15.03.2014]
"It's the occupation and Israeli bigotry that are anti-Semitic" by Larry Derfner
What we do to the Palestinians and Israeli Arabs – in the last two days, for example – has caused more damage to the Jewish people than anything since the Holocaust.
Who knows? Maybe the Jordanian judge, Raed Zueter, killed by Israeli soldiers Monday, went mad from grief over his critically ill 5-year-old son lying in a coma, and really did attack the troops, and maybe they truly had no choice but to kill him in self-defense. Or maybe there was no such attack, maybe there was just an argument and the soldiers got a little trigger happy, not for the first time. Reportedly, there are eyewitness accounts for both versions of what happened at the Allenby (or King Hussein) Bridge border crossing from Jordan into the West Bank yesterday. …
Bitte lesen Sie hier weiter.
Ergänzende Links:
+972 magazine




Gesellschaft [15.03.2014]
Petition: Suspend the Israeli Football Association's FIFA membership
Membership of the Israeli Football Association (IFA) should be suspended until Israel respects the human rights of Palestinians and observes international law, thus enabling Palestinian footballers to play and compete nationally and internationally.
Since 1967, Israel has maintained a brutal military occupation of Palestine, building illegal settlements and a separation wall on stolen land, despite condemnation by the UN and International Court of Justice. Within Israel, over fifty laws discriminate against its Palestinian citizens. When influential sports organizations say nothing in the face of an injustice of such magnitude they are complicit. …
Bitte lesen Sie hier weiter.
Ergänzende Links:
Petition: Suspend the Israeli Football Association's FIFA membership
Shooting Feet: Israel Targets Palestinian Soccer Players (cdr)




Gesellschaft [15.03.2014]
Nilin: Help us free Abdullah Amireh from Israeli military jails
Abdullah Amireh, 22 years old, resident of Ni'lin village and peaceful protester against the Israeli apartheid wall. On 03.11.2013 Abdullah was arrested in the middle on night at 02:00 am after a huge number of Israeli forces bombed the door of his house and invaded with military dogs!
Abdullah was taken to Almasqubya military jail with a very heavy and brutal interrogation and insulting to him. He was not allowed to sleep for 16 days except 3 hours a day and he was under heavy interrogation for 8 hours every day. Abduallah was prevented from lawyer's visit.
Bitte lesen Sie hier weiter.




Gesellschaft [14.03.2014]
Jordantal: Kein Existenzrecht für Khirbet Yarza
"Es wäre besser, sie würden uns töten, anstatt uns so leben zu lassen", sagt Msaed il Hammed - einen Tag, nachdem sie ihr Zuhause und den Großteil ihres Besitzes verloren hat. Ihr Gesicht ist dabei voller Tränen der Verzweiflung.
Am 22. Januar um ca. zehn Uhr kam die israelische Armee mit Abrissfahrzeugen nach Khirbet Yarza und zerstörte innerhalb einer Stunde vier Zelte, zwei Viehunterstände sowie einen Großteil der Lebensmittel, Küchenutensilien und des Viehfutters – das Zuhause und die Existenzgrundlage von 16 Menschen, darunter 10 Kinder. …
Bitte lesen Sie hier weiter.




Gesellschaft [08.03.2014]
Briefe an deutsche und internationale Fussball-Organisationen: Israelische Attacken auf palästinensische Fussballer sanktionieren!
Eine perverse Konsequenz der israelischen Militärdiktatur in der Westbank und Gaza liegt darin, dass diese perfide Bestrafung zweier palästinensischer Amateurfussballer mehr Aufmerksamkeit erregt, als die regelmässigen israelischen Morde an fussballspielenden Kindern und Jugendlichen in Gaza.
Dabei kann es auf diese Verbrechen nur eine Reaktion geben, einen umfassenden Boycott.
---
Sehr geehrte Herren beim Deutschen Fußballverband,
Bitte lesen Sie hier weiter.
Ergänzende Links:
Campaign against Arsenal football club support for Apartheid Israel (2006)




Politik [07.03.2014]
OCHA: Area C Vulnerability Profile
The Vulnerability Profile Project (VPP), launched in 2013, is an inter-agency exercise designed to identify vulnerabilities in Area C. This feature provides previously unavailable data on Area C of the West Bank, including the most comprehensive information on physical protection, access to land and livelihoods, water and sanitation, education and health.
According to the VPP, an estimated 297,900 people live in 532 residential areas in Area C, comprising some of the most vulnerable communities in the West Bank in terms of humanitarian needs.
It is the first in a series of products featuring data and analysis that will be available to the public.
Den vollständigen OCHA-Report finden Sie hier wieder.




Kultur [06.03.2014]
Guernica 1937 / Nablus 2002
Ergänzende Links:
Mit dem AIC in Nablus: Elfter Jahrestag der Ermordung von Shaden Abu-Hijleh (ipk)




Gesellschaft [05.03.2014]
After Latest Incident, Israel's Future in FIFA Is Uncertain
Ein weiterer Grund für den Boykott Israels.
Their names are Jawhar Nasser Jawhar, 19, and Adam Abd al-Raouf Halabiya, 17. They were once soccer players in the West Bank. Now they are never going to play sports again. Jawhar and Adam were on their way home from a training session in the Faisal al-Husseini Stadium on January 31 when Israeli forces fired upon them … Ten bullets were put into Jawhar's feet. Adam took one bullet in each foot. After being transferred from a hospital in Ramallah to King Hussein Medical Center in Amman, they received the news that soccer would no longer be a part of their futures.
Bitte lesen Sie hier weiter. …
Ergänzende Links:
FIFA Kontakt für Ihre Beschwerde (fifa)




Ipk [04.03.2014]
JVS: Israeli army invades JVS centre in Fasayil
Today, in the morning, two palestinians and three brazilian internationals were carrying repairs to the JVS Centre, in Fasayil. The house is more than eighty years and is the oldest house in the village.
At eleven o'clock in the morning four israeli soldiers arrived in JVS Centre. They have not been given permission to enter in the centre, but they still went into the house, made checks on the organization, asked a lot of questions to the internationals and the Palestinians present. They also took pictures of the house and the people. …
Bitte lesen Sie hier weiter.
Ergänzende Links:
Mit dem AIC in Fasayil: 'Zionismus ist eine Form staatlich organisierter Kriminalität' (ipk)




Gesellschaft [03.03.2014]
Not an Apartheid State? Bennett will take care of it.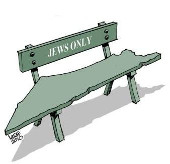 By Adam Keller
The Batsheva Dance Company went to New Zealand, for a performance reflecting the decades long artistic work of its director, the well known choreographer Ohad Naharin. But even there, on the other side of the world, the dancers could not escape the political problems of this country. Outside the St. James Theatre in Wellington were waiting for them dozens of angry protesters, who accused Bat Sheva of "whitewashing", of presenting a nice face for the State of Israel, hiding the violation of the Human Rights of Palestinians.
Bitte lesen Sie hier weiter.




Politik [01.03.2014]
Gaza: The world has forgotten about us … people think we are just numbers …
"Please tell people that we are sad … very sad. Tell them this because it is so important that the world knows that we are people with feelings in the same way as you. Imagine today I saw a small child fall sinking under the water and I did not think he would come back up again. The old man with him fell as he tried to pick up the boy and hold to his walk stick. I think to myself then, in this moment, that people think we are just numbers … they do not think we have the same feelings like they have for the old people and children. Tell them this. Tell them in a strong way and say to them that we need the world to stand with us as we fight to stay alive". …
Bitte lesen Sie hier weiter.




Politik [01.03.2014]
New Israeli apartheid legislation
(aic) The Israeli Knesset has adopted a new law which recognizes Muslim and Christian Arab communities as separate identities, giving them their own representation on an employment commission.
The law, which was passed on Monday Feb. 23, was sponsored by Yariv Levin (Likud-Beyteinu) and expands the Equal Employment Opportunity Commission from five to 10 members, giving separate seats to representatives of Christian and Muslim Arab workers' groups.
According to Levin, the law's ultimate objective is to distinguish between Muslim and Christian Arab citizens of Israel and to heighten the involvement of Christians in Israeli society. …
Bitte lesen Sie hier weiter.
Ergänzende Links:
Israel's latest attempt to incite Muslim-Christian sectarianism will fail (A. Winstanley, memo)
Law dividing Christians, Muslims is a classic colonial tactic (972mag)




Politik [01.03.2014]
amnesty: Israel and Occupied Palestinian Territories: Trigger-happy: Israel's use of excessive force in the West Bank
Israeli forces have repeatedly violated their obligations under international human rights law by using excessive force to stifle dissent and freedom of expression, resulting in a pattern of unlawful killings and injuries to civilians. They do so with virtual impunity due to the authorities' failure to conduct thorough investigations. This report focuses on the use of excessive force in the West Bank since the beginning of 2011. It includes cases of killings and injuries of Palestinian civilians in the context of protests against Israel's continuing military occupation of the Palestinian territories, illegal Israeli settlements and the fence/wall.
Den vollständigen Report finden Sie hier wieder.
Ergänzende Links:
Trigger-happy: Israel's use of excessive force in the West Bank (ai)
Muataz Washaha: Murdered by Israel as "peace" talks continue (ei)
Amnesty video highlights "trigger-happy" Israel's lethal ambush of schoolboy (ei)




Politik [28.02.2014]
Talking Peace While Making War
(IMEU) In the approximately seven months since negotiations restarted between Palestinians and Israelis in late July 2013, Israeli Prime Minister Benjamin Netanyahu's government has approved plans for 11,700 new settlement units to be built on occupied Palestinian land in violation of international law. As each unit represents one house or apartment, most if not all of which will likely be home to more than one person, this means once these plans have been realized the settler population will increase by well over 20,000 people.
Additionally, Israeli authorities have moved ahead with several other construction projects intended to confiscate Palestinian land, restrict the growth of Palestinian population centers, and cement Israeli control over parts of the occupied territories, including through the creation of dubious "national parks" and archeological digs on occupied Palestinian land. …
Bitte lesen Sie hier weiter.




Politik [27.02.2014]
The quiet enablers of the crime
Die entscheidende Frage ist nicht, ob Israel eine Demokratie ist. Die entscheidende Frage ist vielmehr, ob es ein Rechtsstaat ist.
Yoel Tzur, the CEO of the Company for the Development of the Yeshiva Town in Beit El admitted during his interrogation by the police that he built what would come to be known as "Ulpana Hill" on private Palestinian land which he had no valid purchase contract for.
Tzur told the police he began the construction in 1998, and that by 2000 he thought he obtained a contract for the land, which turned out to be a forgery. That is, Tsur himself says he begun the construction violations two years before he even thought he had a contract. …
Bitte lesen Sie hier weiter.




Gesellschaft [27.02.2014]
Why Israelis are content to live in a bubble of denial
By Jonathan Cook
The 24-hour visit by German chancellor Angela Merkel to Israel this week came as relations between the two countries hit rock bottom. According to a report in Der Spiegel magazine last week, Ms Merkel and Israeli prime minister Benjamin Netan­yahu have been drawn into shouting matches when discussing by phone the faltering peace process.
Despite their smiles to the cameras during the visit, tension behind the scenes has been heightened by a diplomatic bust-up earlier this month when Martin Schulz, the president of the European parliament and himself German, gave a speech to the Israeli parliament. …
Bitte lesen Sie hier weiter.




Politik [26.02.2014]
Die EU ist eine tragende Säule der Besatzung
(972mag) Since 1994 the international community has donated more than $30 billion …. Without this aid Israel would have to take on the daily life needs of more than 4 million Palestinians.
Donor assistance … has freed Israel from these responsibilities, and allowed it to avoid making hard political decisions regarding its legal, moral and political responsibilities ….
…, donor countries indirectly facilitate Israel's rule over all of historical Palestine. Israel can expand settlements, prevent any Palestinian economic recovery, seize Palestinian land, cut the Palestinian territories to disconnected areas, increase socio-economic fragmentation …, and in 2000-2003 it was able to carry out destructive army operations inside Palestinian cities, all while donors foot the bill for reconstruction and emergency aid.
Bitte lesen Sie hier weiter.
Ergänzende Links:
Preserving dependency to support settler-colonialism (memo)




Medien [26.02.2014]
'Boycott-Divestment-Sanctions'-Kampagne durchbricht Medien-Barriere
Mit diesem Auftritt in der Spätausgabe der öffentlich-rechtlichen Nachrichtensendung tagesthemen, macht die Boycott-Divestment-Sanctions'-Kampagne in Deutschland einen gewaltigen Schritt nach vorn.
Wurden die Aktivisten bislang entweder ignoriert oder pauschal als Antisemiten stigmatisiert, zeichnet der tagesthemen-Bericht ein vergleichsweise neutrales Bild, das ohne Diffamierungen auskommt, und sogar seinen bekannten Berliner Aktivisten, Martin Forberg, zu Wort kommen lässt.
Damit ist ein erster wichtigen Meilenstein erreicht worden, dem hoffentlich bald weitere folgen werden, um der israelischen Gewaltherrschaft über die Palästinenser in Gaza und der Westbank ein Ende zu bereiten.
Ergänzende Links:
EU droht mit Boykott von Siedlerprodukten (tagesthemen)
BDS is on the rise (pmon)
Boycott, Desinvestitionen und Sanktionen für Palästina




Politik [25.02.2014]
Free Yousef Abu Maria!
Israeli occupation forces stormed today at dawn the house of Yousef Abu Maria (South West Bank Popular Resistance Committee's member, who is also the coordinator of Beit Ommar Popular Movement), terrorized his children and wife, tampered the house contents and arrested him. Yousef Abu Maria was arrested 19 times before and spent about 5 years in Israeli occupation prisons in total. Yousef has 4 children aged 6months - 13 years who are left behind with no income, since Yousef is the only source of income for his family.
South West Bank Committee
Ergänzende Links:
The Palestine Solidarity Project




Gesellschaft [24.02.2014]
'amnesty international' widerlegt Diffamierungen der 'Aktion 3. Welt Saar'
In dem Artikel "Amnesty International und die 'Troubled Waters'" unterstellt die Redaktion der Flugschrift Amnesty International Einseitigkeit und behauptet, Amnesty rechne in dem Bericht ´Troubled Waters – Palestinians Denied Fair Access to Water`"teilweise mit falschen Zahlen". Welche Zahlen das sein sollen, wird nicht aufgeführt, stattdessen arbeitet der Artikel selbst mit falschen Behauptungen, die wir hier richtig stellen wollen. &hellip
Bitte lesen Sie hier weiter.
Ergänzende Links:
taz verbreitet Siedler- & Kolonialpropaganda der 'Aktion 3. Welt Saar' (ipk)
EU Aid to Palestinians – Help or Hindrance? (A. Hackl, pc)




Politik [23.02.2014]
UN-Resolution 3070: "reaffirms the legitimacy of the peoples' struggle for liberation from colonial … domination … including armed struggle"
The General Assembly,
… Recognizing the imperative need to put an early end to colonial rule, foreign domination and alien sub-jugation,
1. Reaffirms the inalienable right of all people under colonial and foreign domination and alien sub-jugation to self-determination, freedom and independence in accordance with General Assembly resolutions 1514 (XV) of 14 December 1960, 2649 (XXV) of 30 November 1970 and 2787 (XXVI) of 6 December 1971;
2. Also reaffirms the legitimacy of the peoples' struggle for liberation from colonial and foreign domination and alien subjugation by all available means, including armed struggle;
Bitte lesen Sie hier weiter.
Ergänzende Links:
Resistance and Revolution: An Interview with Leila Khaled
UN-Resolution 3379: '… zionism is a form of racism'




Politik [23.02.2014]
20 years since the Ibrahimi Mosque Massacre in Hebron
(972mag) Twenty years ago, on February 25, 1994, Israeli-American Jewish settler Baruch Goldstein massacred 29 people in the Ibrahimi Mosque in Hebron, the Muslim holy site at the Cave of the Patriarchs. Goldstein's attack with an automatic assault rifle left 125 wounded.
In the wake of the massacre, its victims, the Palestinian residents of Hebron, were the ones to suffer. Once one of the city's major thoroughfares and commercial centers, Shuhada Street was closed to Palestinian vehicle and foot traffic as part of the Israeli army's attempt to create "sterile" buffer zones between Jewish settlers and Palestinian residents in the city.
Bitte lesen Sie hier weiter.
Ergänzende Links:
The Ibrahimi Mosque Massacre: 20 Years Later (imeu)




Politik [21.02.2014]
What does Israels 'right to exist' mean?
… Israel has argued over the years that Jews have a right to establish a state in Palestine, that they have a right to establish a "Jewish" state in Palestine, that this state has a "right to exist," and that it has a "right to defend itself", which includes its subsidiary right to be the only country in the region to possess nuclear weapons, that it has the "right" to inherit all the biblical land that the Jewish God promised it, and a "right" to enact laws that are racially and religiously discriminatory in order to preserve the Jewish character of the state, otherwise articulated in the more recent formula of "a Jewish and democratic state". Israel has also insisted that its enemies, including the Palestinian people, whom it dispossesses, colonises, occupies, and discriminates against, must recognise all these rights, foremost among them its "right to exist as a Jewish state", as a condition for and a precursor to peace. …
Bitte lesen Sie hier weiter.
Ergänzende Links:
On Questioning the Jewish State (nyt)




Gesellschaft [21.02.2014]
Nabi-Saleh: The Tamimi-family under attack
Die in dem rund 500 Einwohner zählenden Nabi-Saleh lebende Tamimi-Familie steht an der vordersten Front des Widerstands gegen das Vorrücken der benachbarten jüdischen Kolonie Halamish und die sie beschützende Polizei und Armee. Dafür zahlt die Familie einen sehr hohen Preis: unzählige Monate in israelischer Haft, Verletzungen und bislang zwei Tote.
yesterday morning, i woke up to read that there was another night raid in nabi saleh and that five young men were arrested from inside their homes. i looked at the list of the men, and saw that jihad was one of them. jihad is in his early 20s, he is the nephew of the martyr rushdi tamimi, his mother jiji is rushdi's sister. jihad is the brother of samia, sami and amany. he spend several months in military prison about two years ago and participated in the mass hunger strike of palestinian political prisoners …
Bitte lesen Sie hier weiter.
Ergänzende Links:
TAMIMI PRESS (fb)
nabi saleh solidarity (wp)
Occupied Palestinian Territories – villagers face violence (ai)




Politik [18.02.2014]
The massacre of Lydda and the 'Liberal' Zionist View
A racist ideology gives birth to a racist state. Founded on territory belonging to another people it strips them of their possessions and drives them away. It buries the ruins of their villages and cemeteries beneath thick forests of pine trees, complete with paths and picnic tables. These forests are dedicated to distant politicians who either do not know or do not care that their names are being used to cover up, literally, mass destruction, pillage and theft. Having embarked on a life of crime, the state continues to live outside the law for every second of its existence for more than six decades. To remain what it is, to further its ideological and territorial imperatives, it must live outside the law. Most states commit crimes but this state is defined by criminality. All change is cosmetic, relative and designed to conceal the true agenda. …
Bitte lesen Sie hier weiter.
Ergänzende Links:
Israeli Massacres on Palestinians
Israel's 'Great Book Robbery' unravelled




Gesellschaft [18.02.2014]
Jordan Valley Solidarity: Demolitions in Khirbet Yarza
(JVS) Today, the Israeli military went to Khirbet Yarza, in the North of Jordan Valley, to destroy houses and animals tents. They arrived at 6am with 12 jeeps, 2 bulldozers and 100 soldiers and declared a closure
The army destroyed three houses and two tents which the animals lived in. They also confiscated one tractor and took it to the army base close to Hammamat al Malleh. They have confiscated 6 tents which families were living in. Until now, the affected families do not have any kind of support. They have stayed in the same place where the demolitions occurred without any help
The names of the families are: Faiz Hamid Sami Khaled, Mahmoud Daraghmeh, Naeem Hafiz Mesaieed, Methqal Faiz Hamid.
Quellen:
Israeli Occupation Forces Target Khirbet Yarza with Demolition, 19. Feb 2011




Politik [17.02.2014]
Unfair peace treaty will hurt Palestinians the most
Martin Indyk, Australian-American former ambassador to Israel, is the chief envoy for US Secretary of State John Kerry's Arab-Israeli peace framework. He leads almost all the Jewish American negotiating panel, including David Makovsky, a "mapping specialist" from the American Israel Public Affairs Committee (AIPAC) affiliation Washington Institute for Near East Policy (WINEP).
Indyk is now meeting with several prominent Jewish figures in the United States concerning his strategies while concealing them for everyone else. It was recently said that Israel is frequently complaining about being coerced into a deal despite the fact that they will get almost everything they ask for. …
Bitte lesen Sie hier weiter.




Gesellschaft [17.02.2014]
BDS: Mainstream zionists inspired by supporters of Apartheid-South-Africa
"While the majority of black South African leaders are against disinvestment and boycotts, there are tiny factions that support disinvestment — namely terrorist groups such as the African National Congress," libertarian economics professor Walter Williams wrote in a 1983 New York Times op-ed.
Williams' claim was as absurd then as it appears in hindsight, but his sentiment was far from rare on the American and British right in the 1980s.
Yet today's so-called progressive and liberal Zionists employ precisely the same kinds of claims to counter the growing movement, initiated by Palestinians themselves, for boycott, divestment and sanctions (BDS) on Israel. …
Bitte lesen Sie hier weiter.




Gesellschaft [16.02.2014]
Ein Hijleh, a village that means resistance
(aic) Last week, some 300 Palestinian activists established the protest village of Ein Hijleh in a cluster of palm trees and abandoned houses in the Jordan Valley north of the Dead Sea.
Ein Hijleh was created in the face of pledges by Israeli Prime Minister Benjamin Netanyahu that he would not "uproot any Israeli citizen" from the West Bank and his insistence on retaining control of the Jordan Valley amid talks brokered by U.S. Secretary of State John Kerry.
The village was organized by the 'Palestinian Popular Struggle Coordination Committee', with aim of "refusing the political status quo, especially given futile negotiations destroying the rights of our people for liberation and claim to their land." …
Bitte lesen Sie hier weiter.




Politik [13.02.2014]
Eklat in der Knesset: EU-Parlamentspräsident Schulz bekennt sich zu uneingeschränkter Solidarität mit Israel
Am vergangenen Mittwoch nutzen israelische Ultranationalisten den Knesset-Aufritt des europäischen Parlamentspräsidenten, Martin Schulz, um einen 'Eklat' zu inszenieren, der von den hiesigen Medien mit der Israel gebührenden Ernsthaftigkeit aufgebauscht wurde, gerade so als ob Schulz Israel übermässig hart oder unzulässig kritisiert hätte.
Obgleich Schulz in seiner Rede keine einzige der vielen Lebenslügen der 'deutsch-europäisch-iraelischen Freundschaft' ausliess, und den letzten Kolonial- und Apartheidstaat im Nahen Osten als "starke Demokratie, eine pulsierende, offene Gesellschaft" bezeichnete, genügte allein die Erwähnung der Rechte der Palästinenser und des Völkerrechts, um den politischen Arm der Siedler-Kriminellen auf den Parlamentsrängen in Rage zu versetzen und so einen Eklat zu erzeugen, dem sich auch Regierungschef Netanjahu anschloss.
Bitte lesen Sie hier weiter.
Ergänzende Links:
Schulz' Knesset-Rede im Volltext (faz)
Schulz: Sanktionen sind Ländersache (taz)
"Habe eine pro-israelische Rede gehalten" (welt)




Politik [12.02.2014]
Between Normal and Abnormal: 'A Day in Aida Camp'
By Kholoud Al-Ajarma – Aida Refugee Camp, West Bank
"This is normal, we got used to it!" Salah, the Director of Lajee Center responded to me when I comment that the center smells like tear gas even though the clashes had not started yet. Lajee Center (Lajee means refugee in Arabic) is a Palestinian creative cultural center for children and youth that was established in 2001 in Aida refugee camp, Bethlehem. Believing in its ideology and support of national, human and moral rights, I joined Lajee Center when I was 14 years old.
Bitte lesen Sie hier weiter.




Politik [11.02.2014]
Can Oslo's failed aid model be laid to rest?
… critics of the Oslo aid model … assert that the aid model is itself a part of the occupation, because it is designed in a way that subverts Palestinian development while reinforcing and subsidizing the Israeli occupation … For critics, development is not policy to be implemented, but domination to be resisted, because in the case of Israel-Palestine the hidden intent behind development aid is to reinforce the occupation.
There is a fourth group …: The neo-colonialists, who consider aspects of foreign aid to have been a success. Particularly in the West Bank, Palestinian resistance to the Israeli occupation has largely been mollified and Israel's policy aims have largely been achieved. … organizations such as the Washington Institute for Near East Policy have … been advocating an approach to aid that provides economic incentives to Palestinians in return for their giving up rights. …
Den vollständigen Text finden Sie hier wieder.




Kultur [11.02.2014]
Crowd-Funding: 'Abu Youssef - Heimat ist Heimat'
Abu Youssef ist die Geschichte des früheren deutschen Gastarbeiters und jetzigen palästinensischen Olivenbauers. Abu Youssef hatte in den 60er Jahren seine Heimat Palästina verlassen, um sich in Deutschland ein neues Leben aufzubauen. Nach über dreißig Jahren kehrte er, in sein Heimatland zurück, wo er als Olivenbauer lebt. Trotz seiner achtzig Jahre strahlt er große Lebensfreude bei der körperlich schweren Arbeit aus. Auch Rückschläge, seien sie familiär oder politisch durch die schwierige Lage inmitten des Nahost-Konflikts, können Abu Youssef so schnell nicht unterkriegen. …
Bitte lesen Sie hier weiter.




Politik [08.02.2014]
Israels Minister für strategische Angelegenheiten fordert 100 Mio. Schekel zur Bekämpfung von BDS
(aic) Yuval Steinitz, Israel's minister for strategic affairs, recently asked for an additional budget of 100 million shekels, to be able to react more effectively against the boycott campaign. One needs no more evidence for the success of BDS. Steinitz has good reasons to be worried: as I wrote several weeks ago, in the last year BDS initiatives have made a qualitative jump, from activists' actions to those by big firms and corporations. The biggest Danish Bank, Danske Bank, divested its money from Bank Hapoalim; additionally, PGGM, the second largest Dutch pension fund, divested from theIsraeli banking system, and the Norwegian government ordered the government's pension fund to withdraw its capital from Africa-Israel. …
Bitte lesen Sie hier weiter.
Ergänzende Links:
Risala - Newsletter Jan 2014




Politik [07.02.2014]
Israeli demolitions in the Jordan Valley in 2013
(OCHA) Please find attached a new map released today, "Israeli demolitions of Palestinian property in the Jordan Valley in 2013." The map shows the location of the Israeli authorities' destruction of Palestinian property, the volume of such destruction and those sites where there were demolitions of donor-funded assistance. It also includes total figures for the number of structures demolished in 2012 and 2013 and the number of persons displaced as a result.
Ergänzende Links:
Israeli demolition of Palestinian homes at five-year high: aid groups (reuters)
Red Cross: Israel destroying emergency shelters of home demolition victims (ei)




Politik [07.02.2014]
The Palestinian Capitalists That Have Gone Too Far
(alshabaka) While most Palestinians living under Israeli occupation are struggling to survive, a powerful group of Palestinian capitalists is thriving and growing in political, economic and social influence. The cost, all too often, is their engagement in economic normalization projects. In other words, they deal with the Israelis as though they were a "normal" business partner rather than an occupying power that has ruthlessly violated Palestinian rights for over 65 years.
In this policy brief, Al-Shabaka Policy Member Tariq Dana sheds light on the ways in which these Palestinian capitalists exercise political influence and social control and gives examples of the economic normalization projects in which they have engaged. …
Bitte lesen Sie hier weiter.




Ipk [06.02.2014]
Petition: Apartheids- und Siedlungstourismus der grünen Parteistiftung des Saarlands stoppen
Die saarländische Niederlassung der Partei-Stiftung der 'GRÜNEN', die Heinrich Böll Stiftung Saar, offeriert für den Mai 2014 eine Bildungsreise nach Israel, deren Programm die Besetzung und Kolonisierung Palästinas verschweigt, die palästinensischen Opfer der israelischen Vertreibungspolitik ausblendet und die Teilnehmer überdies zu Komplizen macht.
Dem Reiseprogramm zufolge werden sich die Teilnehmer wenigstens an drei Orten befinden, die Israel seit 1967 besetzt hält und die das Ziel ethnischer Säuberung waren oder sind. Dazu gehören die syrischen Golanhöhen sowie Ost-Jerusalem und das Jordantal, wo Israel illegale jüdische Kolonien errichtet und die ortsansässigen Palästinenser vertreibt.
Bitte lesen Sie hier weiter.
Ergänzende Links:
Heinrich Böll Foundation supports Israeli settlers (aic)




Politik [04.02.2014]
Mai 2014: Palästina-Apartheids-Rundreise mit der 'Heinrich Böll Stiftung Saar'
Bisher hat sich die 'Heinrich Böll Stiftung Saar' darauf beschränkt, Israel bei der Unterdrückung der Palästinenser ideell zu unterstützen, etwa indem sie autochthonen Palästinenserhassern eine Bühne für ihre rassistische Siedler- und Kolonialpropaganda einräumt - so wie zuvor schon die taz, das informelle Parteiblatt der GRÜNEN.
Im Mai dieses Jahres, plant die Stiftung nun ein neues Geschäftsfeld für Israels Kolonisten zu erschliessen, den Tourismus.
Dazu organisiert die Böll-Stiftung eine veritable 'Apartheids-Rundreise'. "Apartheids-Rundreise", weil zwei Dinge in ihrem Programm nicht vorgesehen sind: Die direkte Begegnung mit der Besatzung und mit der autochthonen Bevölkerung, den Palästinensern.
Bitte lesen Sie hier weiter.
Ergänzende Links:
Heinrich Böll Foundation supports Israeli settlers (aic)




Politik [03.02.2014]
NCF: The Government's Plan for the Dispossession of the Bedouin Population
The Government plan, known as the Prawer Begin Plan, (hereafter the Plan) is a plan for the dispossession of the Bedouin population from its lands, the demolition of its historical villages and the forced resettlement of its population in Government sponsored townships. Allegedly this plan is designed to implement the recommendations of Judge Eliezer Goldberg's committee of 2008 , recommendations that were unsatisfying for the Bedouin community. In fact the Prawer-Begin Plan turns the clock back and its implementation will bring about the demolition of most of the unrecognized villages and the transfer of tens of thousands of their residents to urban centers and townships that even now are considered among the most impoverished and underdeveloped places in Israel.
Bitte lesen Sie hier weiter.
Ergänzende Links:
The Negev Coexistence Forum Newsletter (ncf)




Politik [03.02.2014]
The New York Times goes BDS
Why Israel Fears the Boycott
Das nachfolgende Editorial von Omar Barghouti erschien in der 'The New York Times'.
Dass Erscheinen eines solchen Beitrag in einer deutschen Tageszeitung ist angesichts der staatlich verordneten Israel-Solidarität ausgeschlossen.
… The B.D.S. movement's call for full equality in law and policies for the Palestinian citizens of Israel is particularly troubling for Israel because it raises questions about its self-definition as an exclusionary Jewish state. … Israel remains the only country on earth that does not recognize its own nationality, as that would theoretically avail equal rights to all its citizens, undermining its "ethnocratic" identity. The claim that B.D.S., a nonviolent movement anchored in universal principles of human rights, aims to "destroy" Israel must be understood in this context. …
Ergänzende Links:
Why Israel Fears the Boycott (nyt)




Gesellschaft [02.02.2014]
Palestinian Workers in Settlements
Ende 2013 liess sich Arbeiterführer Michael Sommer auf dem Berliner Israelkongress dafür feiern, nichr nur die illegalen Siedler zu unterstützen, sondern auch die in den Siedlungen operierenden Unternehmer zu unterstützen, die durch die Ausbeutung der Zwangslage der Palästinenser sicher einen erheblichen Extraprofit machen.
Vor diesem Hintergrund erscheint es ratsam, sich mit der Situaton der palästinensischen Arbeiter in den Siedlungen zu befassen.
Palestinian Workers in Settlements - Who Profits Position Paper
Israeli and international companies that face criticism owing to their activities in the occupied West Bank often attempt to legitimize their businesses in settlements by claiming that they provide labor to Palestinian workers. These claims are blatant attempts to distract public attention from the Israeli occupation and the daily hardships suffered by Palestinians, who are compelled to seek their livelihood in Israeli industries, usually in settlements. …
Bitte lesen Sie hier weiter.




Gesellschaft [02.02.2014]
Appell der Frauen aus Gaza
Wir palästinensische Frauen aus Gaza sind Teil der Gesellschaft ganz Palästinas. Die Apartheidspolitik Israels hat uns in die Isolierung gezwungen. Seit sieben Jahren sind wir Opfer der Blockade und der militärischen Besetzung des Gaza-Streifens.
Wir gehören zu jenen 1,8 Millionen Palästinensern, die auf einer Fläche von 365 Quadratkilometern eingesperrt sind. Wir werden täglich und systematisch entmenschlicht.
Wir bitten Euch dringend: helft uns, die ungerechte und unmenschliche Blockade zu beenden. Die Blockade geht gegen unser ganzes Leben als Frauen, als Mütter, als Berufstätige.
Bitte lesen Sie hier weiter.




Politik [01.02.2014]
The futile two-state solution: Palestinians denounce 'financial blackmail'
Palestinian leaders have reacted angrily to what they see as a veiled threat by the European Union over the dispersal of financial aid to the Palestinian Authority (PA) if peace talks with Israel fail to reach a breakthrough.
European officials recently warned the Palestinians that European countries were suffering from "donor fatigue" after spending billions of dollars in aid with limited results in achieving a lasting peace with the Israelis.
"It has been made very clear to the Palestinians that just sitting around and waiting is not an option," said Lars Faaborg-Andersen, EU ambassador to Israel. "We have made it clear to the parties that there will be a price to pay if these negotiations falter." …
Bitte lesen Sie hier weiter.




Gesellschaft [01.02.2014]
Tchibo/SodaStream: Verkauf von Siedlungsprodukten stoppen!
Entwurf für eine Email an service@tchibo.de und info@tchibo.de
"Sehr geehrte Damen und Herren,
mit Erschrecken habe ich in Ihrem online-shop den Artikel "SodaStream Crystal" entdeckt.
Die heftige öffentliche Auseinandersetzung zwischen der Entwicklungshilfeorganisation "Oxfam" und der Schauspielerin Scarlett Johansson um einen Werbevertrag für die Firma SodaStream in den letzten Wochen dürfte Ihnen nicht entgangen sein. Hierzu schreibt z.B. die "Welt" am 29.01.2014:
Bitte lesen Sie hier weiter.
Ergänzende Links:
SodaStream Boycott




Medien [31.01.2014]
taz verbreitet Siedler- & Kolonialpropaganda der 'Aktion 3. Welt Saar'
Im Dezember letzten Jahres verbreitete die taz einen mehrseitigen Text einer scheinbaren 3.-Welt Soligruppe - 'Aktion 3. Welt Saar' - mit dem Titel "Vorsicht, die Helfer kommen!".
Was zu Beginn nach einer progressiven, wenn auch altbackenen Kritik an den Auswüchsen der NGO-Industrie aussieht, entpuppt sich bei weitergehendem Studium als ätzendes Gemisch aus vorsätzlichen Fälschungen, intellektueller Unfähigkeit und rassistischer Demagogie.
Bitte lesen Sie hier weiter.
Ergänzende Links:
Rassismus und israelische Propaganda als linke Kritik getarnt (Jüd. Stimme)
Aktion 3. Welt Saar: 'Unzurechnungsfähigkeit aus Größenwahn' (C. Messerschmid)
Islamfeindlichkeit von links - Was die Aktion 3. Welt Saar unter "Multikulti" versteht (ak)




Gesellschaft [26.01.2014]
Aktion 3. Welt Saar: 'Unzurechnungsfähigkeit aus Größenwahn'
Die TAZ hat ihrer Ausgabe vom 20. Dezember 2013 eine Flugschrift über das Hilfsbusiness der NGOs in Palästina[1] beigelegt.
"Aktion 3. Welt Saar schreibt hierin u.a. über Amnesty International's Wasserbericht[2] aus dem Jahre 2009:
"Dort heißt es: "Der tägliche Frischwasserkonsum der in den besetzten Gebieten lebenden Palästinenser liegt bei rund 70 Litern pro Kopf – und damit deutlich unter der Menge von 100 Litern, die von der Weltgesundheitsorganisation (WHO) empfohlen wird."

Demgegenüber verbrauche ein Israeli täglich im Schnitt über 300 Liter Wasser, also mehr als das Vierfache. ... Offen bleibt dabei, woher Amnesty überhaupt die Verbrauchszahlen hat – eine Quelle für sie wird im Bericht nämlich nicht genannt."
Amnesty International's Bericht liegt im
Original auf Englisch
und in
deutscher Übersetzung
vor.
Bitte lesen Sie hier weiter.
Ergänzende Links:
The Emergency Water, Sanitation and Hygiene group (EWASH)
Donor Opium




Medien [24.01.2014]
Normalisierungspropaganda "Goldrausch statt Intifada - Aufbruch in Palästina" (WDR Weltweit)
Am 21. Januar hat der WDR mit der Sendung Goldrausch statt Intifada - Aufbruch in Palästina eine Aneinderreihung neoliberaler Klischees über Palästina vorgeführt, die rein gar nichts mit der Realität in den besetzten Gebieten zu tun haben, sieht man von einer dünnen Schicht von Profiteuren des allein auf Verschuldung und Auslandshilfen beruhenden 'Aufschwungs' in Palästina ab.
Die bedeutenste "Leistung" der beiden Autoren, Michaela Heine und Ghislain Barallon, besteht darin einen halbstündigen Film über Palästina zu drehen, der gänzlich ohne die Nennung der ruinösen, alles erstickenden Besatzung auskommt.
Bitte lesen Sie hier weiter.
Ergänzende Links:
Settler violence: Think of it like burning down a Jewish business




Politik [23.01.2014]
Saudi Arabia: A Retrograde Rentier Dictatorship and Global Terrorism
Weder die Palästinenser, noch irgenein anderer Araber werden die Freiheit erlangen, solange der 'Nahe Osten' von Militär- und Feudal-Diktaturen beherrscht wird, die sich als Handlanger westlicher Interessen betätigen.
The ruling elite relies on the purchase of Western arms and US military bases for protection. The wealth of productive nations is syphoned to enrich the conspicuous consumption of the Saudi ruling family. The ruling elite finances the most fanatical, retrograde, misogynist version of Islam, "Wahhabi" a sect of Sunni Islam.
Faced with internal dissent from repressed subjects and religious minorities, the Saudi dictatorship perceives threats and dangers from all sides: … In response it has turned toward financing, training and arming an international network of Islamic terrorists who are directed toward attacking, invading and destroying regimes opposed to the Saudi clerical-dictatorial regime. …
Bitte lesen Sie hier weiter.




Politik [22.01.2014]
Israel to destroy another Haifa neighborhood, evict Palestinian residents
An Israeli municipality plans to demolish al-Mahatta, a historic Palestinian neighborhood in Haifa. It will be replaced by the expansion of an existing railway, new housing units, nightclubs and restaurants, among other venues designed to bring in increased tourist revenues.
"Since I was five years old, I've been hearing that al-Mahatta is going to be completely destroyed … but today, I can't imagine that we have more than two or three years left in our homes," George Eskandar, chairman of al-Mahatta's neighborhood committee, told The Electronic Intifada.
Around 160 people from more than 30 families are facing eviction. All of them carry Israeli citizenship. …
Bitte lesen Sie hier weiter.




Kultur [22.01.2014]
Film: 'Woher kommst du?''
'Woher kommst du?' (Doku, Dt./Arab., 2013, 42 Min, Regie: Wisam Zureik)
Es ist mühsam einer Minderheit anzugehören, die 20% eines Staates ausmacht, dessen Mehrheitsbevölkerung die Existenz dieser Minorität nicht akzeptiert. Kompliziert wird es, wenn diese Minderheit das indigene Volk der Region ist, in der dieser Staat gegründet wurde und jener diese Tatsache leugnet. Und skurril wird es dann, wenn 82 % dieser Minderheit das Leben in diesem Staat dem in einem anderen Staat vorziehen. Das ist die arabische Minderheit in Israel, der ich angehöre.
Bitte lesen Sie hier weiter.




Politik [19.01.2014]
Of negotiations and high treason: Israel-Palestine 'peace'
by Susan Abulhawa
No good for Palestinians will come of the current Middle East talks. Worse, harm seems likely. These negotiations threaten to undo years of work by Palestinian civil society and solidarity partners around the world who have been working tirelessly for a just peace. Their work has been done -principally- through global nonviolent resistance campaigns such as the Boycott Divestment & Sanctions campaign (BDS), the Russell Tribunal, and mounting popular local and international protests, among other tactics. …
Bitte lesen Sie hier weiter.




Politik [18.01.2014]
Israels demokratischer Rassismus
"We say – peace is not the issue, we need to get rid of the Palestinians", erklärte der gegenwärtige Finanzminister Israels Lapid laut ynetnews.com, der zu den gemässigten Politikern Israels gerechnet wird:
"We say – peace is not the issue, we need to get rid of the Palestinians. It threatens us, it chokes us. Ultimately the State of Israel cannot continue on while unnaturally absorbing four million Palestinians. Eventually they will tell us, 'if you don't want to give us a country of our own, let us vote.' And then, if we let them vote, it will be the end of the Jewish state. If we won't let them – it will be the end of a democratic Israel, and I won't allow that to happen."
Das sieht zwar nach Rassismus aus, jedoch - dieser Rassist ist 'demokratisch und jüdisch'.




Medien [18.01.2014]
Osnabrücker Zeitung: 'Israel als jüdischer Staat: Unzumutbare Forderung'
Am 2. Januar 2014 veröffentlichte die Osnabrücker Zeitung einen Kommentar der Redakteurin für Politik und Wirtschaft, Franziska Kückmann, in dem das Recht Israels auf Rassismus infrage gestellt wird, dass mittlerweile als Teil der deutschen Staatsraison gesehen werden muss.
In dem Kommentar Israel als jüdischer Staat: Unzumutbare Forderung attackiert die studierte Islamwissenschaftlerin gleich drei 'heilige Kühe' der Israel-Lobby: Die Behauptung, dass Israel eine Demokratie - 'jüdisch und demokratisch' - sei, die Behaupung. dass Israel ein moderner, westlicher Staat sei und und zuletzt die, dass Israel auf der Suche nach einem Frieden mit den Palästinensern sei:
Bitte lesen Sie hier weiter.
Ergänzende Links:
Israel's right to be racist (J, Massad)
The rights of Israel (J, Massad)




Gesellschaft [07.01.2014]
African asylum seekers strike to demand rights, hold unprecedented rally in Tel Aviv
(972-mag) Over 20,000 asylum seekers, mostly from Eritrea, assembled in Tel Aviv's Rabin Square Sunday morning to demand recognition as refugees. Across Israel, asylum seekers went on a three-day strike, and more protests were planned.
In recent weeks, the government stepped up the arrest and imprisonment of African asylum seekers who entered the state without permits. Several months ago, Israel's High Court of Justice struck down a law authorizing the state to lock up for three years any person who entered the country illegally, and in some cases, indefinitely.
But last month the Knesset passed a new law, authorizing the state to hold asylum seekers in "closed" prisons for a year. A new "open" holding facility named "Holot" began operating in the desert, where asylum seekers can be held indefinitely until their eventual deportation. …
Bitte lesen Sie hier weiter.




Politik [05.01.2014]
20,000 Palestinian refugees trapped in Yarmouk refugee camp
The Euro-Mediterranean Observatory for Human Rights (EMOHR) and the Working Group for the Palestinians of Syria (WGPS) have published a visual report about the humanitarian crisis in the Yarmouk camp for Palestinian refugees in the southern suburbs of Damascus. The camp has been witnessing a significant deterioration in health and humanitarian conditions over the past year.
The Yarmouk camp is the largest refugee camp in Syria, with a population of about 148,000 people. …
Bitte lesen Sie hier weiter.
Ergänzende Links:
The Syrian Double Revolution and the Euro-Leftist Double Impotency




Politik [05.01.2014]
Palestinian Jerusalemites under attack in 2013
In its annual report, Wadi Al-Hilwa and Silwan Information Centre have said that the Israeli occupation arrested 1,450 residents from Jerusalem in 2013, including 450 children and 25 women. They have displaced 446, destroyed 95 shops and issued destruction warrants to the owners of hundreds of houses.
Last year, the Information Centre said they had witnessed a sharp increase in the targeting of Palestinian residents in Jerusalem, including arbitrary arrests of women, children and elderly people. …
Bitte lesen Sie hier weiter.
Ergänzende Links:
Wadi Hilweh Information Center - Silwan




Kultur [05.01.2014]
Film: Dancing in Jaffa
Pierre Dulaine, four-time ballroom dancing world champion, is fulfilling a life-long dream when he takes his program, Dancing Classrooms, back to his city of birth, Jaffa. For generations, Jaffa has been a city divided by two communities that continue to grow increasingly apart. Over a ten-week period, Pierre teaches Jewish and Palestinian Israeli children to dance and compete together. The film explores the complex stories of three children, all of whom who are forced to confront issues of identity, segregation, and racial prejudice as they dance with their enemy. We watch Pierre transform their lives, confirming his belief that dance can overcome hatred and provide the first steps towards real change.
Bitte lesen Sie hier weiter.
Ergänzende Links:
Kinos für 'Dancing in Jaffa'


---
Ältere Nachrichten finden Sie
hier
.